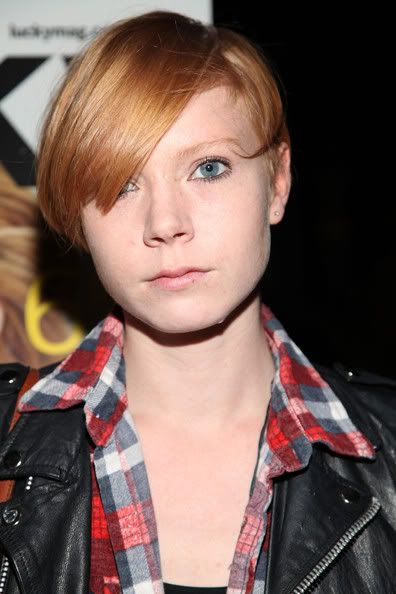 The Washington D.C. native moved to New York with her mother when she was 16 years old. After attending Walnut Hill, a boarding school for the performing arts just outside of Boston, Trullie moved back to the city to study graphic design at Parsons. She began playing weird art openings and grimy loft parties around Brooklyn before being sucked into the black leather, skinny jeans-wearing downtown crowd. After befriending the likes of The Virgins frontman Donald Cummings and music impresario Mark Ronson, and booking a DJ gig at friend Paul Sevigny's ultra-exclusive Beatrice Inn -- where she spun marginal art-rock tracks to the delight of drunk starlets -- Lissy Trullie had staked her claim as New York's freshest homegrown star.
lissy trullie dj's at the beatrice inn
As a fresh-faced struggling musician in New York, Lissy chose to befriend the cool kids rather than mimic them. And how did she avoid getting rejected at all the coolest clubs in town? Simple: She became the DJ. When longtime friend Paul Sevigny (Chloe Sevigny's brother) opened his intimate booze den the Beatrice Inn in New York's ritzy West Village, he turned to his stunning friend with the impeccable taste to provide the tunes. When the Beatrice Inn became the choice bar for celeb-spotting in New York, and its stringent guest list made it nearly impossible to get in, Lissy became something of a mythic figure. Just dropping her name could determine whether revelers would spend their night cutting a rug next to Lindsay Lohan or drowning their sorrows with a Corner Bistro burger across the street.
lissy trullie becomes the face of moises de la renta's mdlr
Every fashion designer needs a muse. Moises de la Renta -- son of legendary designer Oscar -- found his in Lissy Trullie. After meeting Trullie at the Beatrice Inn, de la Renta asked her to be the face of his new line MDLR. Having already inspired Phillip Lim's 2009 collection and modeled for Elle magazine, Trullie knew how to carry herself in front of a camera. MLDR's affordable luxury line is infused with rock sensibilities, the same ones that have been ingrained in Trullie since she picked up a guitar at age four, making her a perfect fit for the upcoming collection. Now that Trullie has graced the pages of MDLR's latest look book, expect to see girls in a little black dress, a Swiss-dot hoodie, stretch-leather pants, and a biker jacket with removable sleeves coming soon to a rock club near you.
lissy trullie goes on tour
After conquering make-you or break-you New York venues like Santos' Party House and Bungalow 8, and releasing her debut EP Self-Taught Learner on Brooklyn-based indie label American Myth Recordings to rave reviews, Trullie and her bandmates embarked on a tour with good friends The Virgins. This summer, Trullie aims to take her unique brand of disaffected girl-rock overseas as she again hooks up with The Virgins and Anya Marina! on a tour that will take her across the U.S. and through Europe. Next stop: Rolling Stone cover.
Quotes
"I like to test out songs on my twelve-year-old cousins and my 70-year-old grandparents. If they like them, then I'm super-psyched. I'm proud when people outside my age or world are into my music. That's when I can feel like I've actually done something."
- Lissy Trullie
http://www.zimbio.com/