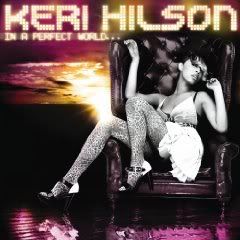 Nurtured between Timbaland's Mosley Music Group and Polow's Zone 4 Inc., IN A PERFECT WORLD . . . boasts amazing sounds from a slew of hitmakers like Timbaland, Polow, and Danja. The album features guest appearances by Timbaland, Lil Wayne, Akon, Keyshia Cole, and Ne-Yo. It's a watershed moment that meets both goals-it sounds and feels great. Speaking up for all the ladies, In A Perfect World . . . also looks to empower women to be strong, independent and determined. "No human is exempt from the realities of life- heartbreak, failure, success..." Keri comments. This takes all forms throughout the album which reveals Keri's ability to translate every day trials and tribulations into engaging music.
Hilson has received many accolades in the media, having graced the covers of Fader and Trace Magazine and has been championed in the pages of Rolling Stone, Blender, Vibe, Entertainment Weekly and Interview to name a few.
Keri Hilson proves herself a true contender in the R&B industry with her excellent debut album, IN A PERFECT WORLD. While she is sexy and makes for a "commercial" artist, she also has compelling vocals backing up her sexiness (if that makes any sense). She isn't the powerhouse of say Alicia Keys, Mary J. Blige, or even dance-pop/R&B diva Beyonce, but she has more vocal prowess than say Ciara (not knocking her). Vocally, she reminds me of Aaliyah to an extent, filling a certain sound that has been missing in R&B. She's not the second coming mind you, but she is a refreshing voice in a genre that lately has been "a bit tired" (See last years Grammy's nominees in comparison to a couple of years back). Not a perfect debut, and maybe sometimes a bit too pop-heavy, it is overall well rounded, particularly by more sensual, slower numbers and even harder hip-hop oriented tracks.
After "Intro" (cliched on every R&B/Hip-Hop album since the Ice Ages), Keri gets the party started with the hip-hop heavy hitter "Turnin' Me On", the first track to give Keri her own hit. Sure "Energy" was a fine track, but it failed at radio. "Turnin Me On" was destined to be a hit - it featured Lil Wayne. The production by Polow Da Don is exceptional here, and Keri sounds fantastic. "Get Your Money Up" keeps the momentum going hard, featuring Keyshia Cole and Trina. Catchy, stupid, and simple, it is a worthwhile listen. Production again stands out, with Hilson's somewhat skinny vocals blending well within the production. Similarly, Keri's vocals are buried within Timbaland's production work on "Return the Favor" which is nearly as good as the first two tracks if a bit long. In this instance, she sounds good mixed within the production as opposed to being on top of it- every producer's trick with dance cuts. Following "Return the Favor", one more flashy cut, though slightly slower (and the third single) "Knock You Down" features the ubiquitous 'gentleman' Ne-Yo and a rapping (can you believe it?) Kanye West. Solid in every way, Keri is at the front of the production here, letting her soprano vocals shimmer over the production work. Ne-Yo sounds as refined as ever and Kanye is Kanye - but I'm glad to hear him rapping and expect another hip-hop album from him soon.
"Slow Dance" truly allows for Keri to shine, letting her vocals run solo as opposed to collaborating with someone else - four tracks of collaborations was a bit heavy at the forefront of a solo album in my eyes. She proves she has the chops here, commanding this well-produced ditty. Even more alluring is it's stronger follow-up, "Make Love" where Hilson gets an A+ not only vocally, but for sensualness; she truly makes the song sound sexy without having to be explicit, something that used to be so easy for R&B singers. "Intuition" returns Hilson to more a more uptempo number. The production is top-rate (she is on Timbaland's label), but the song is middle-of-the-road in comparison to the best. It's average. The hip-hop cut "How Does It Feel" re-energizes IN A PERFECT WORLD with one of Hilson's best vocals and one of the most memorable productions of the album.
"Alienated" is solid, but not the best of the album. "Tell Him The Truth" is solid as well, if underwhelming compared to the best. The Akon feature "Change Me" shows why Akon may be waning the slightest bit as it comes off as only so-so. "Energy", the forgotten but polished first single from IN A PERFECT WORLD restores some lost momentum, with "Where Did He Go", the closing track, ending the album on a high note.
Again, not perfect, but a strong debut that is enjoyable. It doesn't beat The-Dream's LOVE VS. MONEY for best R&B album released in 2009 as of yet, but it does place very highly as far as I'm concerned. Keri, you are "turnin' me on" with your fine debut.